I received Sprout Snacks in exchange for posting a review and giveaway.
Both of my kids love to snack and both would probably do so constantly if allowed to. The difference between my two children is that while my picky eater son prefers all the things I wish he wouldn't eat so much of, my daughter loves all kinds of healthy snacks and new taste combinations. That's why I was happy to hear about a new line of organic toddler snacks from Sprout Organic Foods that could be shared with her. Their new Fruit & Veggie Crispy Chews and Fruity Yogurt Bites are the kind of snacks that my daughter gets really excited to try and that I feel great about giving her. I love that if she asks me if she can have a pack of either I can easily say yes.
Sprout Food's mission is to create tasty, organic products for babies and toddlers to help nurture a taste and love of healthy foods. They know that good habits can start early and stay strong when the right foods are available. All of their products are made with organic fruits, veggies, whole grains and proteins. Their fruit & veggie crispy chews are the only organic toddler snack that combines fruit & veggies with a crispy brown rice.
My daughter's favorite combination was the Red Berry & Beet. She still has a few flavors of the snacks to try yet, but so far they have all been a big hit. She may be a bit past the toddler stage, but she will never be past the stage of making healthy eating choices and I'm glad that she can make the choice easily with Sprout snacks on the shelf. I've also found that the small individual sized packages make really great snacks while we're on the go this summer whether we're out shopping at garage sales in the morning or hitting the pool in the afternoon. The snacks can come with us.
To learn more about Sprout Organic Baby & Toddler Foods visit www.sproutorganicfoods.com. You can also connect with them on Facebook and follow on Twitter or Pinterest. You can order Sprout Products online at Amazon or find a local retailer. Right now you can save $1.00 online when you clip the coupon offer that is available.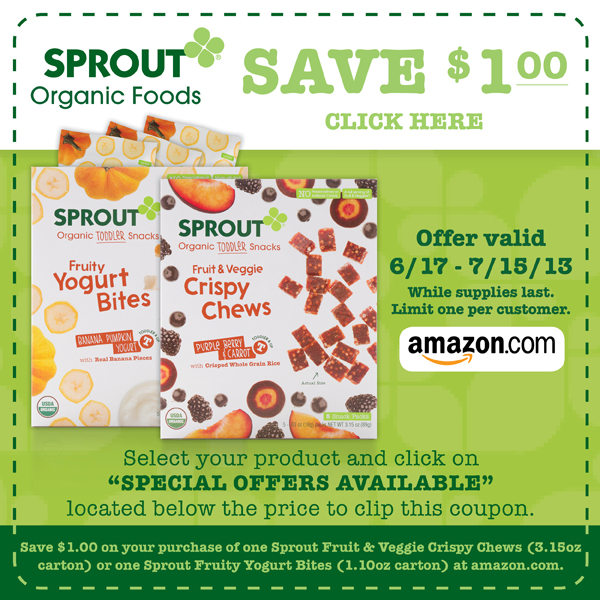 The Giveaway: Thanks to Sprout Organic Foods one winner will receive a sampler pack of the new Sprout Organic Toddler Snacks including all the new flavors of Fruity Yogurt Bites and Fruit & Veggie Crispy Chews. Enter using the rafflecopter form below. Good luck!
#spon: I'm required to disclose a relationship between our site and Sprout Foods. This could include the Sprout Foods providing us w/ content, product, access or other forms of payment. Check out the new Sprout Foods website at www.sproutorganicfoods.com.