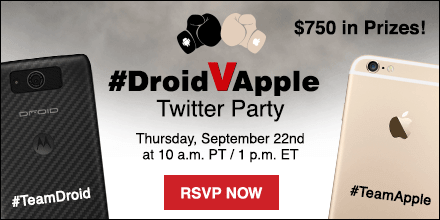 Are you ready for the iPhone 7 or are you a die hard Android fan? It's time to choose sides. You can place your vote now on the Android Vs. Apple page at Savings.com. While you're there you can check out all of the top products for both Android and Apple and view the top deals.
I'm an Android gal myself and probably always will be although my kids are already Apple fans. I recently upgraded to a Samsung Galaxy S7 and I really like it so far.
Join the #DroidVApple Twitter Party this
Thursday, September 22nd at 12:00 pm CST for a chance at $750 in prizes that will be given away. Be sure to
RSVP here
bit.ly/DroidVApple
and then follow the #DroidVApple conversation.